Exclusive Interview With Nelly Hagan Of Duaba Serwa
Fashion as helmed by designers out of Africa and in the Disapora has never had a moment such as this. With a global audience easily accessed via social media, we have seen the fashion plain in West and Africa Hollywood levelled and Africa has become the focus for fashion and design.
Greats such as Lupita Nyong'O and Sheryl Lee Ralph have chosen fashion designs connected to the Motherland for huge red carpet moments. With regards to Lupita, the 'Black Panther' star wore a striking Duaba Serwa of Ghana design for a Hollywood red carpet. The design featured the Duaba Serwa signature which is the Origami Textured design, the trademark of the fashion house. Following the event, images of her posing with Beyonce and then Jay-Z at the event were pored over by many on social media.
Founded by it's creative director Nelly Hagan, an incredible creative force, the fashion house has caught the eye of all across the globe; A list Hollywood, those connected to royalty, style icons and icons of culture.
This is an inspiring fashion house for its point of view, ingenuity and direction. STYLEAFRIQUE™•com recently was honoured to speak to its founder and creative director, Nelly Hagan.
Please read on for an inspiring and thought provoking conversation on inspiration, Duaba Serwa's Hollywood collaborations, what this present moment in fashion means for Africa and the backstory of Hagan's signature Origami Texture exploration.
Greetings Nelly, it is a pleasure to interview you. STYLEAFRIQUE™ is grateful for this exclusive opportunity. We deem it an honor to be able to hear more about your work. Could you kindly tell our readers at STYLEAFRIQUE™ a little about you and share with us a brief history on the Duaba Serwa fashion house and your signature artisanal Origami Texture design?
My name is Nelly Hagan its truly lovely to speak to you at STYLEAFRIQUE™, I studied nursing for 4 years, during that time I would flirt with fashion and design, deconstructing existing pieces my Mother and my brother owned and making them into new "almost urban gear", so in college you'd see me wearing a drunknmunky T-Shirt that wasn't quite a T-shirt, but nipped and tucked into a very stylish crop top with darts for shape and an unusual hemline.
This was my escape from the pressures of working as a nurse in Ghana, it was an intense environment and as much as I loved it, sometimes I just needed a break.
There was a moment of clarity one day at work. I had witnessed an infant's death, there was absolutely nothing I could do, I felt the need to do something, anything really, so I just went back to hand sewing. I didn't realise I was building up a skill at the time.
Within a short period, I had started a jewellery line that had transitioned into a full blown 20 piece summer collection made from prints with beading and some of the most interesting fabric textures.
I think in my current design process the skill I apply the most is precision. It's a formidable skill to have in an environment where we don't have all the necessary machinery to make garments to perfection.
I started working with textures back in 2013, I had travelled to Japan and seen work from Issey Miyaki, and Yoji Yamamoto, the complex nature of their offering intrigued me. So I set out to find my own texture. I experimented with paper craft origami, smock work, layering, monochromatic colours and new shapes as seen below.
The world now knows of your signature textured Origami designs after esteemed Hollywood actress, Lupita Nyong'O wore a stunning couture gown by you to the 5th Annual Wearable Art Gala in 2022. She has shared images of herself in your designs from that night. What are your thoughts on such VIP collaborations and endorsements such as this? What is the Duaba Serwa view point on dressing VIP and such major talent?
It was an incredible experience to have Lupita come by our studio in Accra, meeting her was amazing. A true star in every sense of the word. I think collaborations and endorsements like this are essential to showing the world that African designers are ready to compete on the world stage.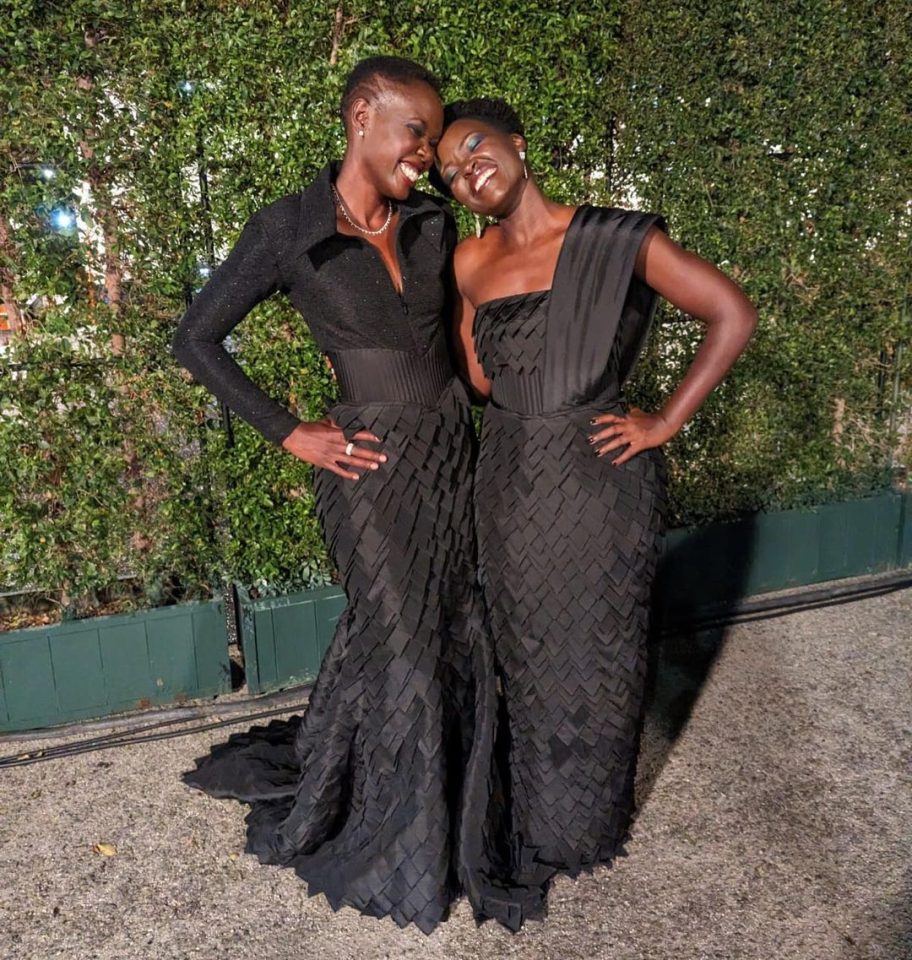 Lupita is not the only Hollywood talent associated with your designs. Bafta award winning Vogue cover star, Michaela Coel the British Ghanaian TV power-weight was photographed wearing Duaba Serwa on the 27th Hollywood Issue of Vanity Fair Magazine. You made this custom gown for this acclaimed magazine cover. Could you share with us a bit about the process and what you were hoping to achieve design wise?
I was selected by VLISCO to design garments for their quarterly global campaign. The garment Michaela Coel wore was one of the pieces from this collective.
When I received the fabric, it was a bold print with yellow and blue hues, the immediate thought was to design an outfit that resembled an African princess and royalty. It was also important to show the design motif in its best light.
The result was an off shoulder gown with a beaded bust line in an "A" shaped silhouette.
Eva Omaghomi, Director of Community Engagement to HRM King Charles III wore a textured triangular origami skirt and jacket at the Coronation ceremony of King Charles III. Congratulations on this historic moment! What was the inspiration for this collaboration and can you share the exact colour of the fabric used?
This was truly a moment in time. Eva wore a coral silk, textured into our signature origami pleat. She selected this piece from our current season, a look we call the "RYU Wing Set". Inspired by the feeling of freedom and flying. A bold intentional silhouette that coincidentally shapes up like the Nigerian traditional IRO and BUBA.
What did it mean for you and the Duaba Serwa artisanal fashion house for Eva to be pictured at the ceremony (and later with Edward Enninful and Vanessa Kingori) in your design?
It's always wonderful, to have your garment seen and appreciated by fashion royalty, it's inspiring to see Africans at the top of their game as decision makers with a seat at the table.
Ghana is championing your fashion house with celebrities like Jackie Appiah in your designs.
Jackie Appiah is not only the biggest movie star in Ghana, but she is also one of the biggest in Africa. It is truly gratifying that she wanted to collaborate with us on her gown to be worn at the most important movie industry award ceremony on the continent.
It was viewed by millions of people and brought more recognition to the brand. I must say she looked very elegant and caught everybody off guard with the batik bodice, that quickly became a topic for discussion on several blogs.
I thought about her wearing something no one would expect, batik is generally associated with everyday essentials, but I've always had an exceptional appreciation for batik and tie-dye because I believe the process to achieve the fabrication is extremely underrated. What better way to shine a light on it than to have it worn by a national treasure with over ten million followers?
Who is the Duaba Serwa woman and what inspires her?
Duaba Serwa is Contemporary African Armor. It is made for the brave, purposeful, driven, intentional woman who heads into every room with strength, poise, confidence knowing that she has all eyes on her and delivers.
Your new collection has you exploring new fabrics such as boucles, crepes and linens. Tell us about this move from a predominant use of silks and taffetas.
It is important to tell your story through different mediums, for me exploring new fabrication always teaches me something, a new way to manipulate a dart, a new way to stitch, mix patterns and new construction techniques. I also wanted to use fabrication that makes sizing easier because of their stretch integrity and movement.
In this new collection, you explore structures such as bodysuits, crop bodices, separates and jumpsuits. Could you share with us what your design process for this collection was and what you were looking to achieve with the full lineup?
The origins of my interpretation of Japanese culture through origami goes all the way back to 2012 – after several attempts to manipulate it into wearable garments (those who are closest to me saw this complex process) it made its debut in our 2014 collection 'Sans-Titre' and though it wasn't perfect, this 9-year intentional research experiment eventually worked out. Being inspired by a culture I dearly love and respect, we built a collection that would connect to every shape of woman seeing themselves in one piece or the other. The separates gives versatility in your wardrobe allowing you to use them in multiple looks.
Your use of batik in this new collection (bodysuits etc) is very clever. How did the batik colour palette come about and did the Duaba Serwa house produce it?
I love colour, it always lifts my mood up. I'm hoping this will translate to anyone who invests in our pieces. As I said earlier, my mission is to bring a whole lot of attention to batik and how remarkable it is. We work with a team of local artisans to produce all our batiks and they are made for the brand – so you can't find them anywhere else.
Never before has there been so much design collaboration between Africa and Hollywood with celebrities championing designs by African designers. What are your thoughts on this and who would you like to dress in Duaba Serwa next?
There has never been a better time to be an African designer. I have been at this for over a decade and the world has gradually become aware and fallen in love with our rich cultures and textures. I am excited to be part of the movement.
My wishlist?
Zoe Saldana
Selena Gomez
Kerry Washington.
I love these women for their strength, dynamism and appeal to multiple demographics and age groups. They are style and culture icons who carry themselves very well in public without taking themselves too seriously which reflects the brand, elegant and adventurous in the same breath.
STYLEAFRIQUE™ would like to thank Nelly Hagan for this interview.