COLLECTION: Thebe Magugu Fall 2023 Ready-To-Wear
Thebe Magugu has been doing some hard thinking in the last year or so. Having staged a brilliant debut show in London last October, the 29-year-old, Johannesburg-based designer took the mature decision to streamline operations this season, showing his fall collection via private appointments in Paris and with a lookbook captured by documentary photographer Pieter Hugo. "I'm in a place where I'm really interrogating what works and what doesn't," he explained. "I am actively thinking about how to participate in fashion in a way that's not as cruel as it was to me in the past."
Magugu knows how it feels to be the hot young designer of the moment, having garnered breathless headlines and A-list fans including Rihanna off the back of his 2019 LVMH Prize win. He also knows that fashion's fickle gaze can refocus with brutal speed. Running an international business from South Africa is hard enough, what with the extreme energy crisis and the complications of manufacturing and shipping, without trying to adapt to fashion's mood swings. "We basically have five hours of electricity a day, so you can imagine the devastation that causes for the economy," he said of his home city. His lightbulb moment came when logistics for his fall '22 collection were keeping him up at night. "I felt like I was running on nothing," he recalled.
Since then, Magugu has switched some of his production from South Africa to Madagascar and Italy to improve the quality, shelved plans for regular catwalk shows, and decided to focus on his customer at home as well as abroad. In April, he'll relaunch his e-commerce website, which, in tandem with a new warehouse to fulfill orders from France, will hopefully simplify operations and allow him to better service his clients with a bolstered direct-to-consumer business. Early signs bode well: A heritage dress capsule launched on his site in recent weeks performed exceptionally well.
And he's doubling down on his heritage, taking African folklore as his theme for fall. Energizing silhouettes in mood-boosting colours are Magugu's calling card, but he proved his flair for prints here too, with a nautical pattern of a 19th-century ship mid-capsize, inspired by "Mami Wata" stories about sea sirens luring sailors to their death splashed across plissé skirts, wide-legged pants, silk-crepe shirt-dresses, and go-anywhere nylon jackets. Kaftan silhouettes are engineered to suit a variety of body shapes, with a particularly elegant chartreuse silk-crepe dress with a woven panel inspired by fishing nets. Form-fitting knitwear in light and heavy gauges, some comprising sweater dresses with cape details, completes the line-up.
What does success look like to Magugu? He smiled when he answered. "I think often people are dissatisfied with my answer to this question. But I can't tell you how 'from nothing' this is. The fact that I am here in Paris, and I have a self-sustaining business—that brings me so much joy. If I can continue on that trajectory and carve out a space for myself and my clients, that really is all I want."
See the Fall 2023 Ready-To-Wear Collection below: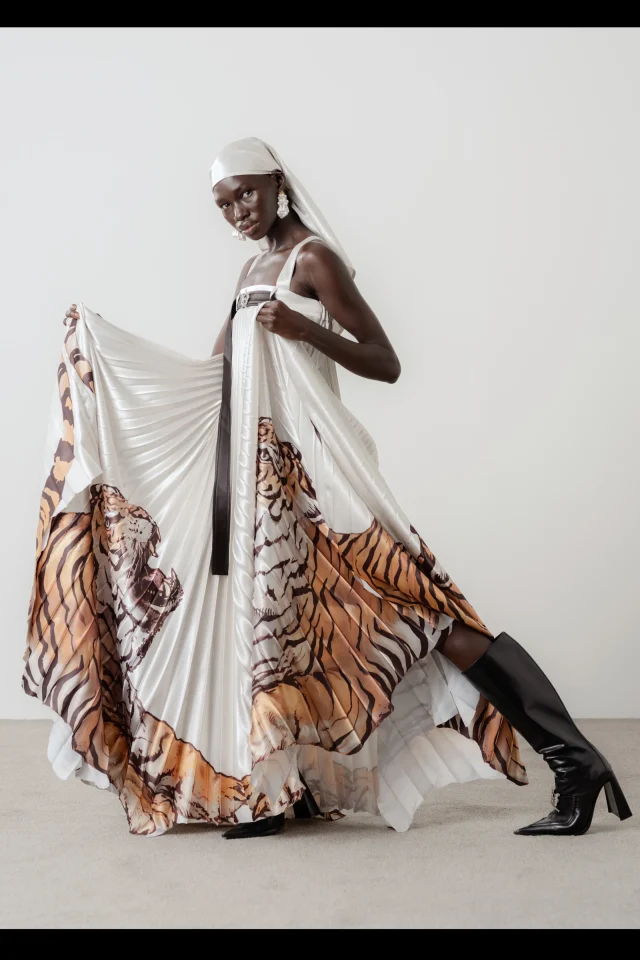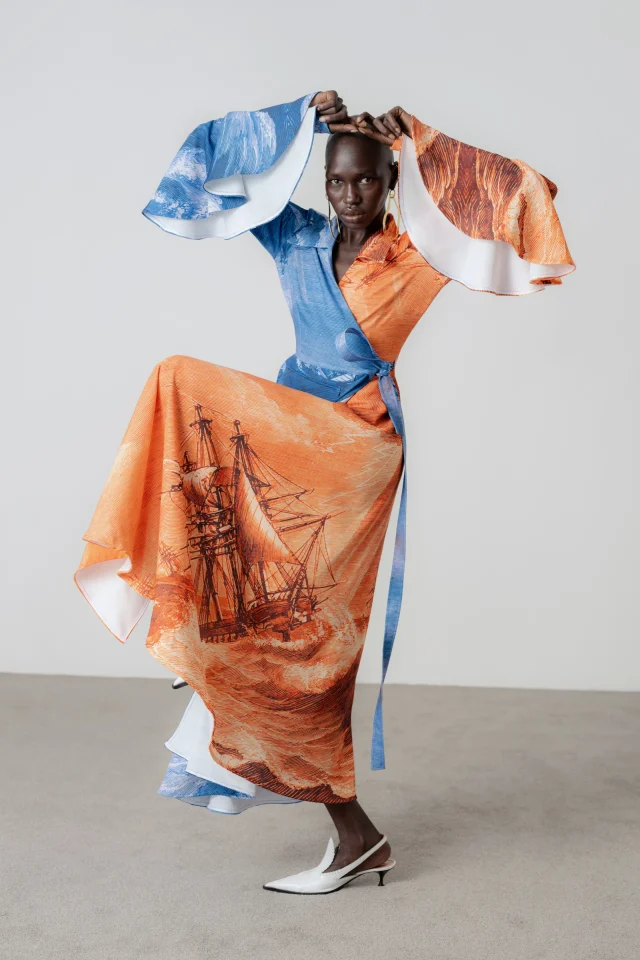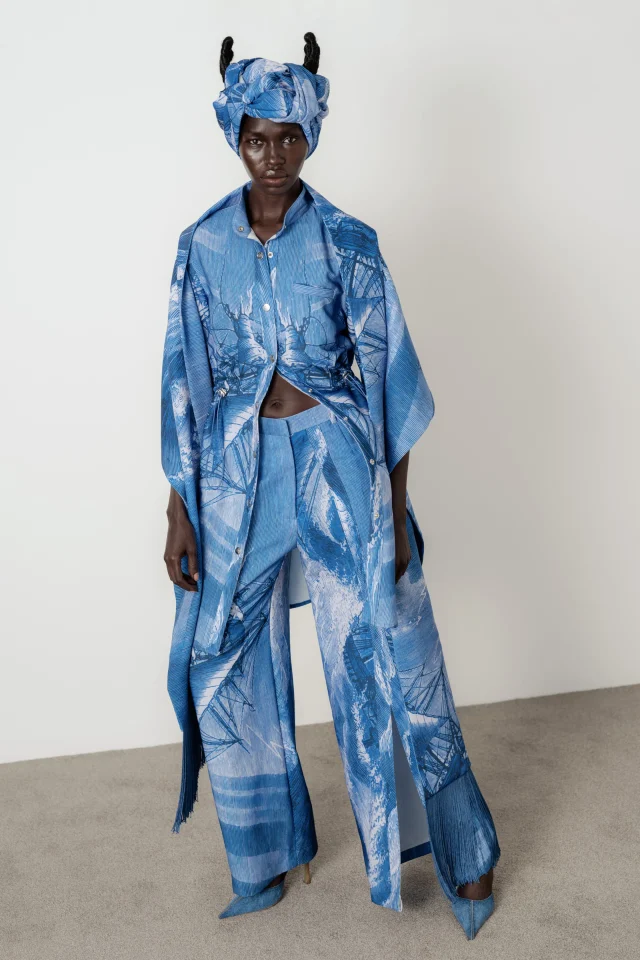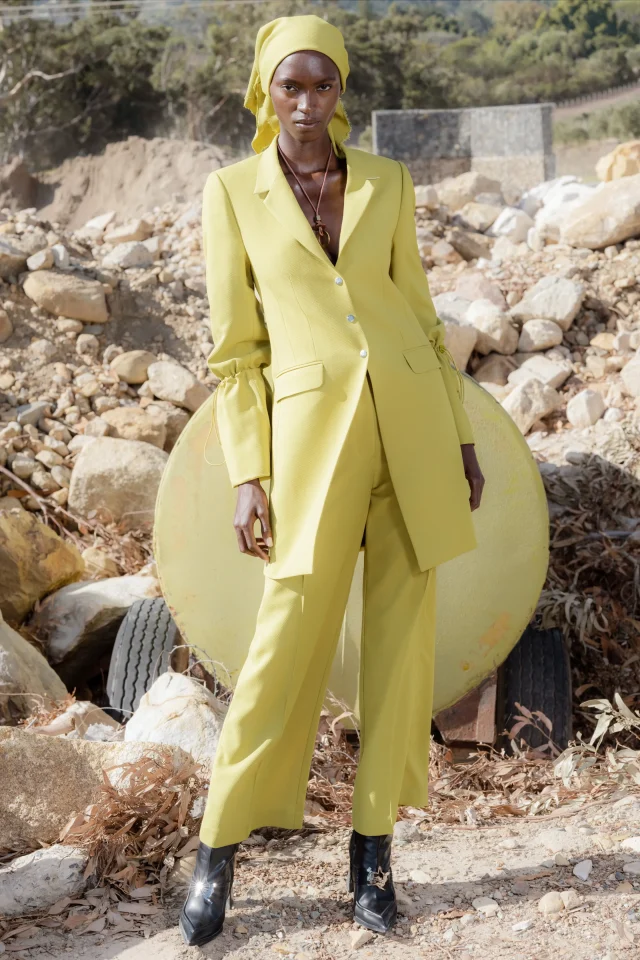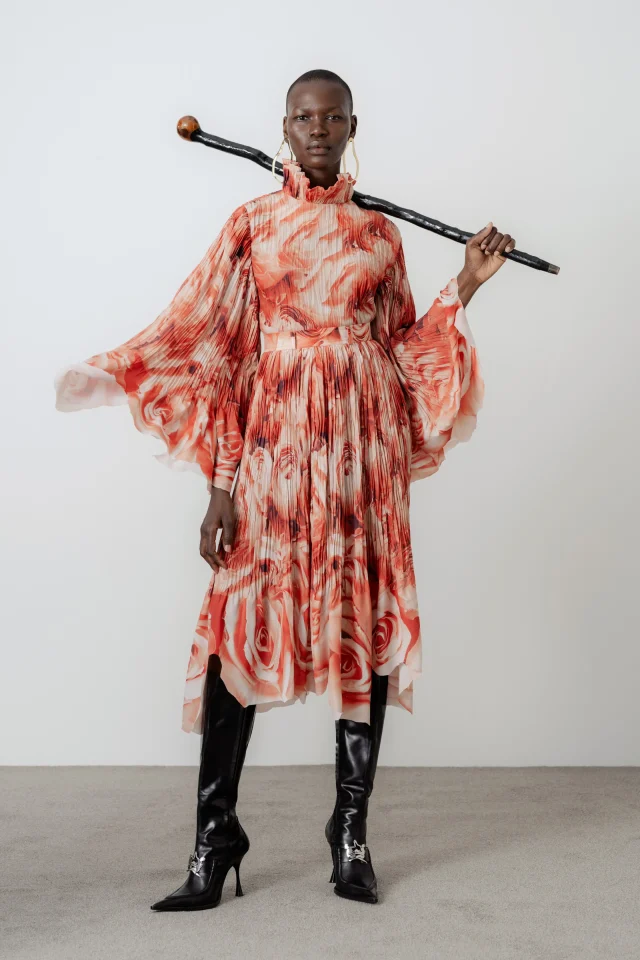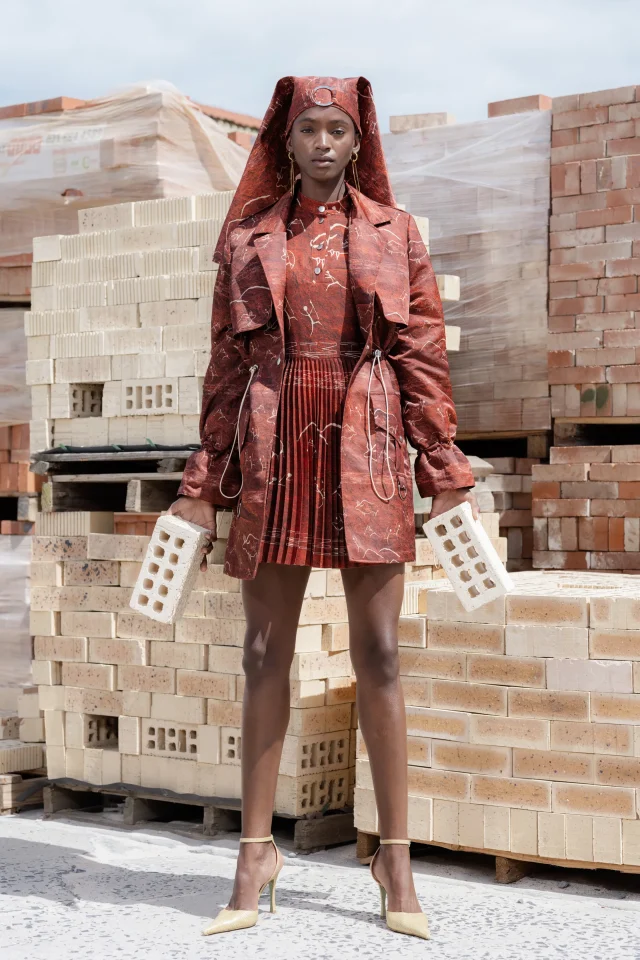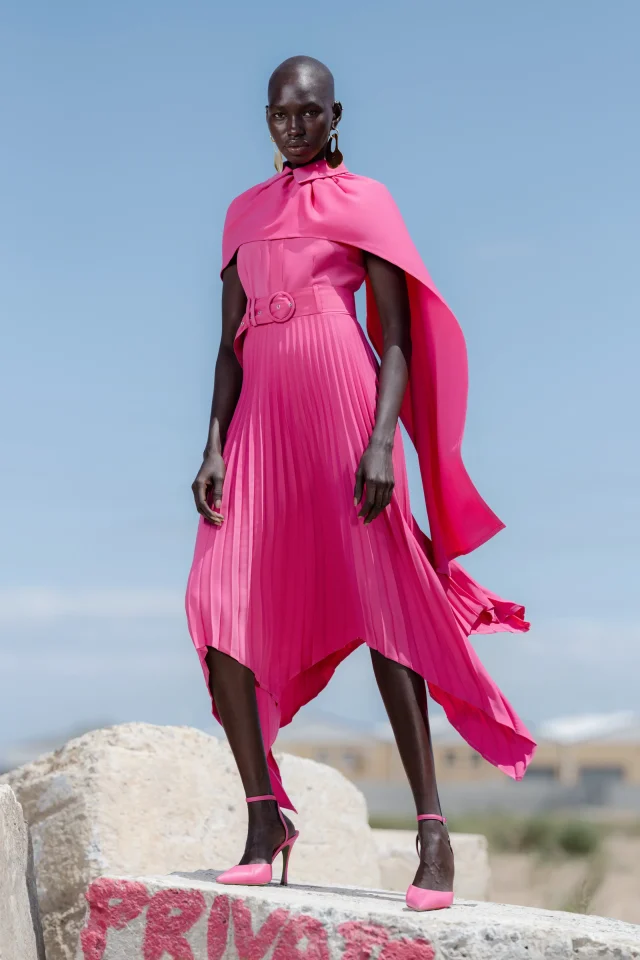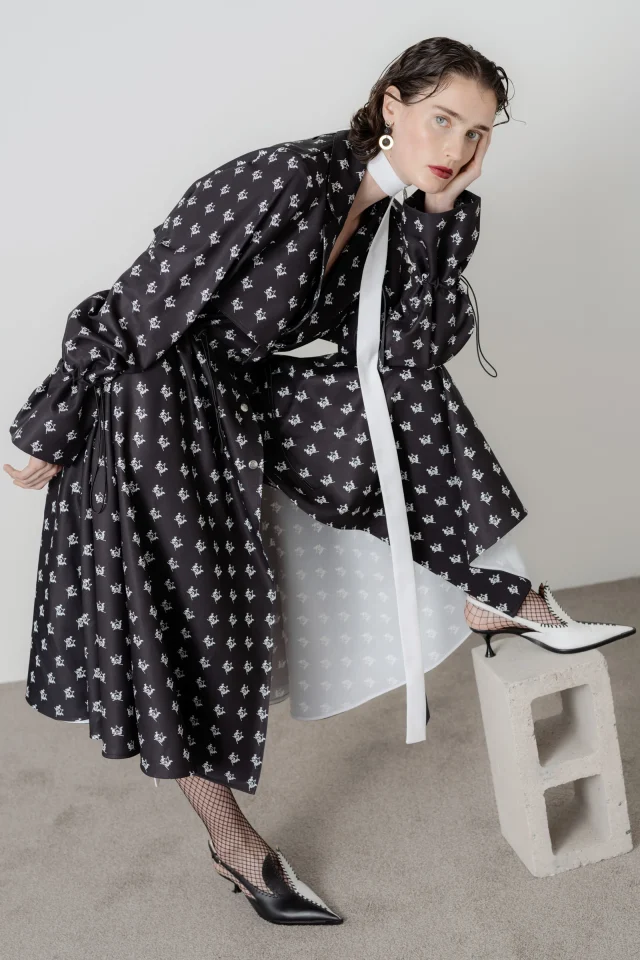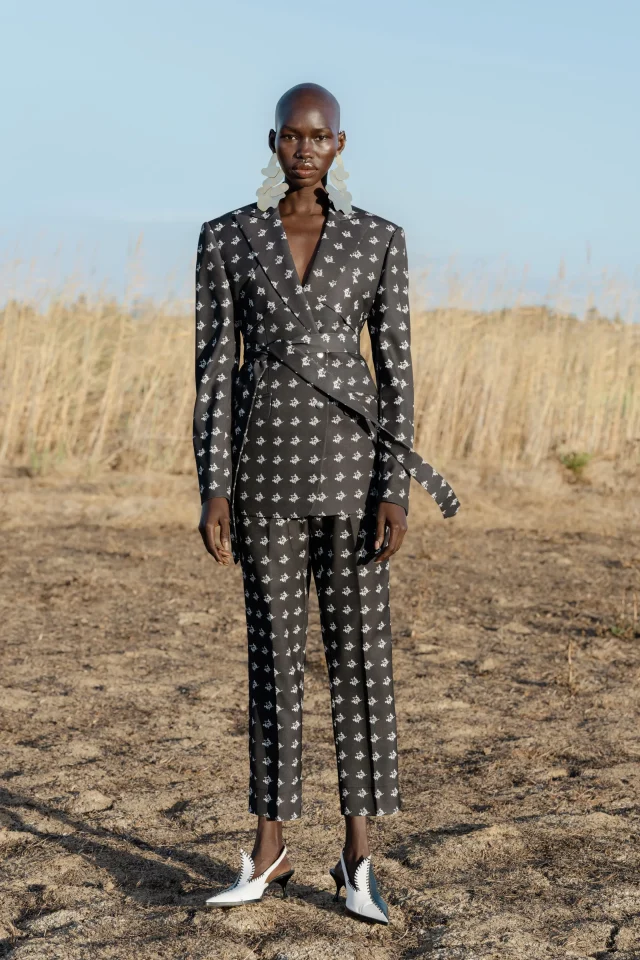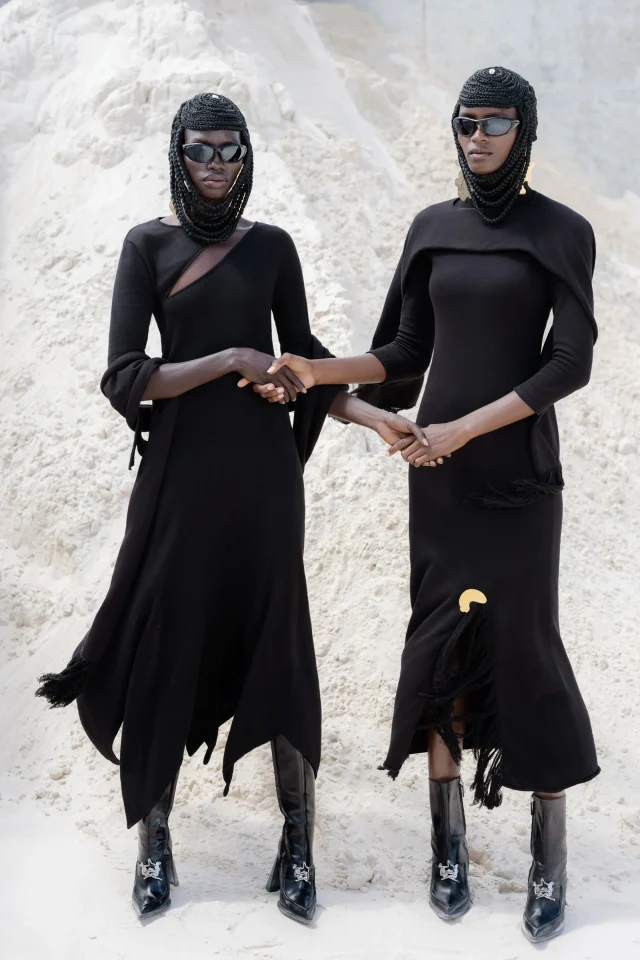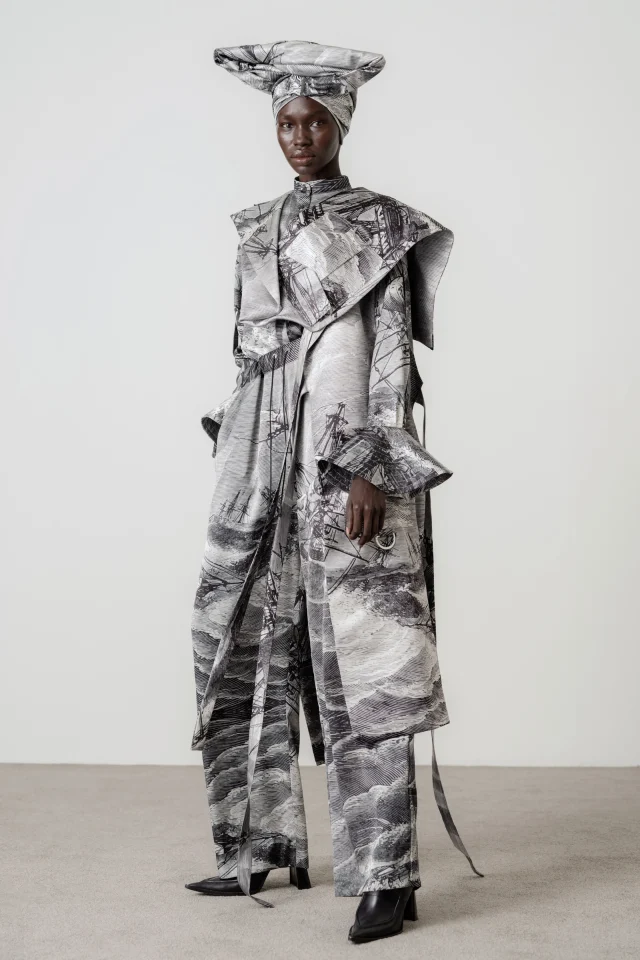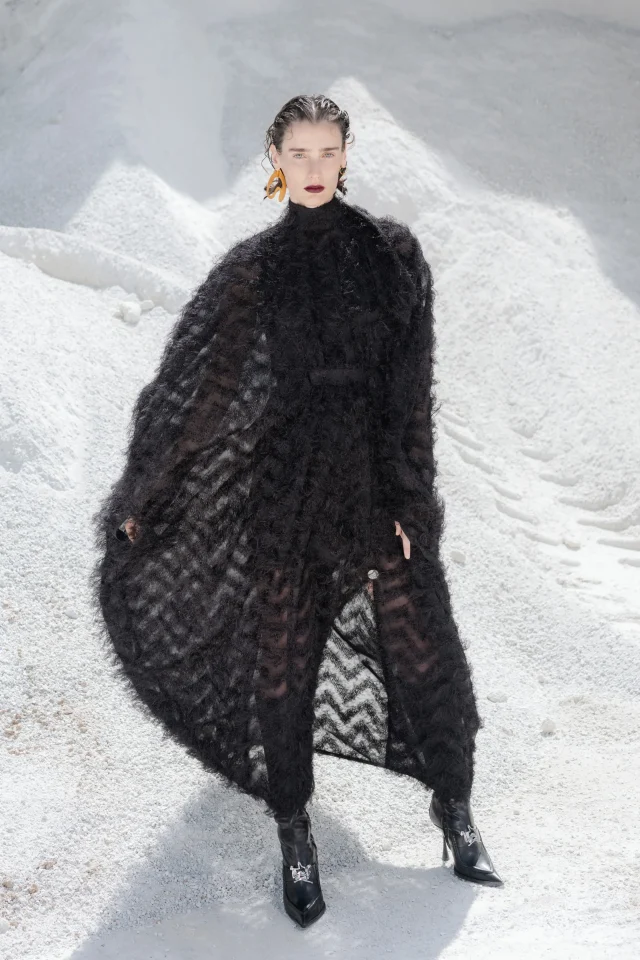 Article Credit: Ellie Pithers/Vogue