Irresistibly Sweet and Tropical: Pineapple and Coconut Poke Cake Recipe
When it comes to desserts, few combinations are as heavenly as the marriage of sweet pineapple and creamy coconut. This delightful creation is a symphony of flavours and textures that come together to create a dessert that's both refreshing and indulgent. Whether you're celebrating a special occasion or simply want to treat yourself to a tropical escape, this cake is sure to delight your taste buds and transport you to a sunny beach in your imagination.
This dessert is not only visually appealing but also incredibly easy to make. So, let's dive into the world of flavours and learn how to create this delicious masterpiece. Don't be surprised if it becomes a regular feature on your dessert menu—it's simply irresistible!
The concept is simple: bake a cake, poke holes in it, and fill those holes with a delicious filling. The result is a moist and flavorful cake that's bursting with flavor in every bite. Over the years, countless variations of poke cakes have emerged, with the Pineapple and Coconut Poke Cake standing out as a tropical twist on this classic dessert.
The Ingredients: A Tropical Medley
For the Cake:
1 box of yellow cake mix
3 large eggs
1/3 cup vegetable oil
1 cup water
You can use a pre-made mix or whip up a homemade one if you're feeling ambitious.
For the Pineapple Filling:
1 can (20 oz) crushed pineapple, undrained
1/2 cup granulated sugar
2 tablespoons cornstarch
For the Coconut Topping:
1 can (14 oz) sweetened condensed milk
1 can (13.5 oz) coconut milk
1 cup shredded coconut
For Garnish:
Whipped cream
Fresh pineapple slices
Shredded coconut
Instructions:
1. Preheat and Prepare:
Preheat your oven to 350°F (175°C).
Grease a 9×13-inch baking dish.
2. Prepare the Cake:
In a large mixing bowl, combine the yellow cake mix, eggs, vegetable oil, and water.
Mix until the batter is smooth.
Pour the batter into the prepared baking dish and bake according to the package instructions.
Remove the cake from the oven when it's golden brown and a toothpick inserted into the center comes out clean.
Allow the cake to cool for about 10 minutes.
3. Make the Pineapple Filling:
While the cake is still warm, use the handle of a wooden spoon to poke holes all over the surface of the cake.
In a saucepan, combine the crushed pineapple (with its juice), granulated sugar, and cornstarch.
Cook over medium heat, stirring constantly until the mixture thickens, about 5 minutes.
Pour the pineapple filling evenly over the cake, making sure it fills the holes.
4. Prepare the Coconut Topping:
In a mixing bowl, combine the sweetened condensed milk, coconut milk, and shredded coconut.
Mix until well combined.
Pour this luscious coconut mixture over the cake, spreading it evenly.
5. Chill and Serve:
Cover the cake with plastic wrap and refrigerate for at least 2 hours, or until it's completely chilled and set.
Before serving, prepare the whipped cream frosting. In a mixing bowl, combine the heavy whipping cream, powdered sugar, and vanilla extract. Whip until stiff peaks form.
Spread the whipped cream frosting over the top of the chilled cake.
When ready to serve, garnish with whipped cream, fresh pineapple slices, and a sprinkle of shredded coconut.
6. Enjoy Your Tropical Delight: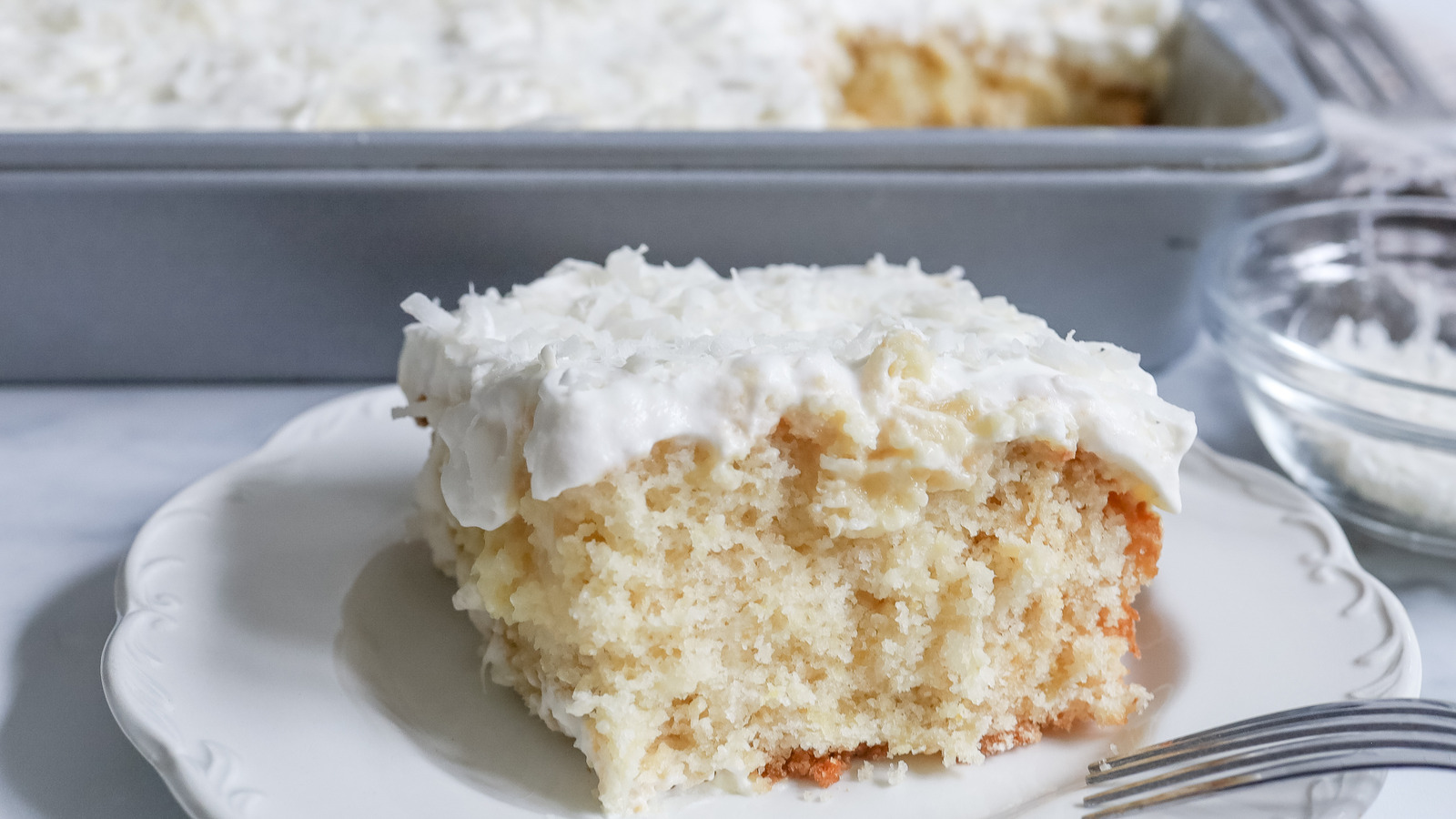 Slice into squares, serve, and savour every bite of this tropical delight. The moist and fluffy cake, combined with the sweet pineapple and creamy coconut, will transport you to a sunny beach in no time.