Accra Fashion Week 2022 Is here
As they embark on an interesting year, Accra Fashion Week is set to define the future leaders of African fashion with an extraordinary showcase of talented creatives. Here is a list of pre-fashion activities set to take place before the runway Shows.
WEDNESDAY, 7TH DEC; MEET THE DESIGNERS
On Day 1 Of Accra Fashion Week is Meet The Designers. Hosted by the renowned Okyeame Kwame aka the rap doctor, Accra Fashion Week welcomes you to MEET THE DESIGNERS. Accra Fashion Week kicks off on 7th December 2022 with a chilled night and a moment to get to know the designers showcasing at the event. This is an open night and a chance for fashionistas, press, influencers, creatives, and more to get acquainted with #AFWk designers arriving from a broad range of countries. The event takes place at Lokko House, Osu.
THURSDAY, 8TH DEC; AFPA & WELCOME2ACCRA
On Day 2 of Accra Fashion Week 2022 is the African Fashion Photography & Art Exhibition. This is a showcase of fashion art and photography by creatives from around the world.
The objective is to highlight alternative creativity within the fashion week outside of clothing and manufacturing, but simply take works into the visual aspects of the fashion creatives, painters, and photographers. The event is hosted by Buy Direct, Mellon Events, FashionGHANA.com, and African Art Gallery.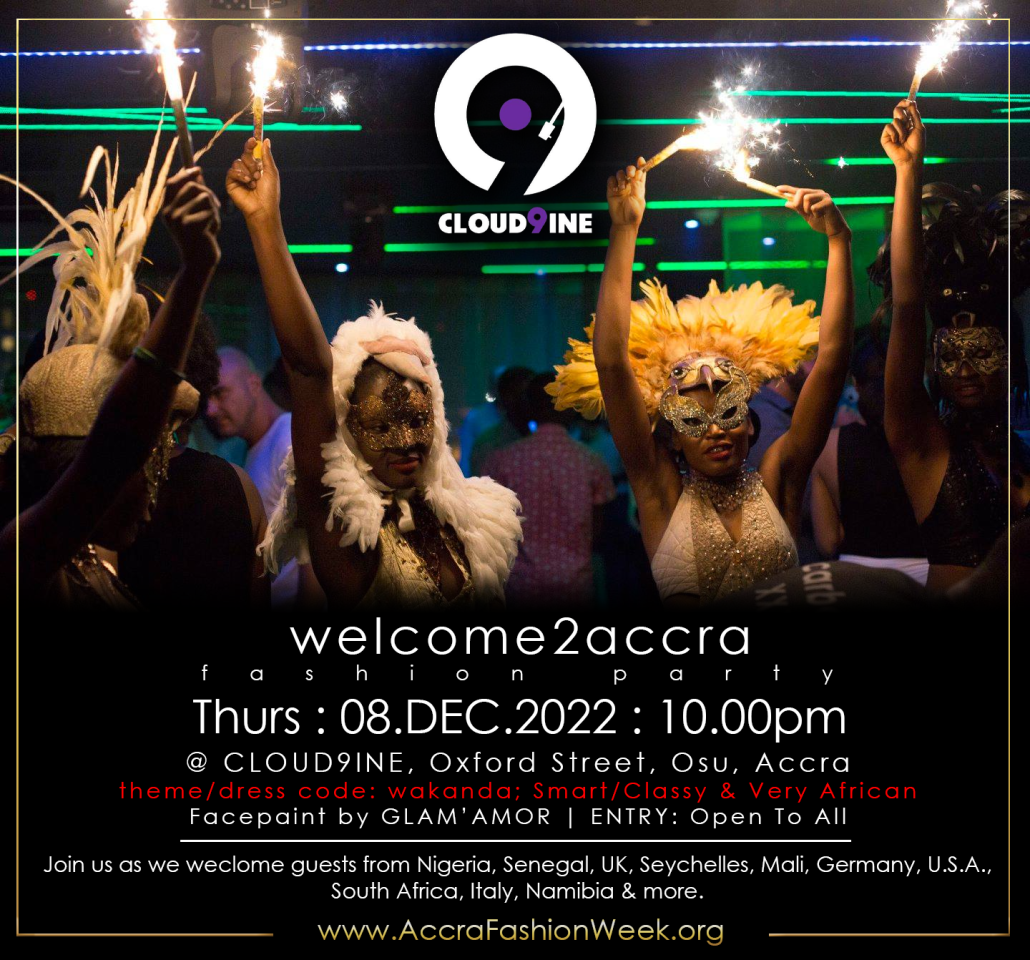 Day 2 will also have the Welcome2Accra Fashion party. A welcome party for guests, designers, foreign designers, press, models, and more. Get ready for a Wakanda experience like no other with the most stylish people from around the continent. Dress code; Designer Wear. The time for the event is 10.00 pm. The night will also feature a Haute swimwear show you can't miss.
FRIDAY, 9TH DEC; AFRICAN FASHION SUMMIT
Day 3 of Accra Fashion Week 2022, features the most important Seminar/Summit to ever take place, the African Fashion Summit. This summit focuses on the need for Africa to build a nature of independence in its growing fashion industry to create a platform where African are in total control of our top tiers in the fashion industry. Discussions begin at 12.15 pm. This Summit is a yearly initiative aimed at creating an economic purpose for the concept of African fashion. In addition to discussing with industry experts, the AFIM Club (African Fashion Independence Movement) will be launched with 10ghs as the registration fee.
FRIDAY, 10TH & 11th DEC; AFRICAN FASHION SUMMIT
Here is the runway madness for Saturday and Sunday. Opening the fashion shows on different days are the school graduates from Rhoda Michaels School, and graduates from RIOHS doing their project work. Followed by an international lineup of designers as seen below.
SAT 10.12.22
Ntomaadie (Ghana)
Aba Blankson (Ghana)
Mikoko Deluxe (Ghana)
Minaladi (Nigeria)
OJZ (Seychelles)
Cybonso Designs (S.A.)
Vicci Mahi (Ghana)
Catherine L (Ghana)
Jnicci (Italy/USA)
Adjasam (Ghana)
Ashara (Senegal)
Red Cotton Boutique (Ghana)
Mshona (Uganda)
Sassy By Etty (Nigeria)
Abrantie The Gentleman
(Ghana)
SUN 11.12.22
Annola Designs (Ghana)
Conrad Sinclair (USA)
Akangah (Ghana)
Houm'Nou (Mali)
Masantewaa Emporium (Ghana)
KUSTOM LOOKS (Ghana)
Deonangelo / Helao (Namibia)
Katiti Seychelles (Seychelles)
Mounir Moda (Senegal)
Kayadua (Ghana)
Ab-Martins (Ghana)
The Nation Association (Ghana)
Angelina Scissora (Ghana)
ZaQi enCloth (Ghana)
Impari Moda (Germany)