Michaela Coel covers Vogue US November 2022, photographed in Accra Ghana
In November, Michaela Coel will appear as Dora Milaje warrior Aneka in 'Black Panther: Wakanda Forever', the second in Marvel's blockbuster Afrofuturist series. Vogue editor Chioma Nnadi interviews the screenwriter and actor in the exciting Vogue US November 2022 cover story Michaela Coel on Creativity, Romance, and the Path to 'Wakanda Forever'.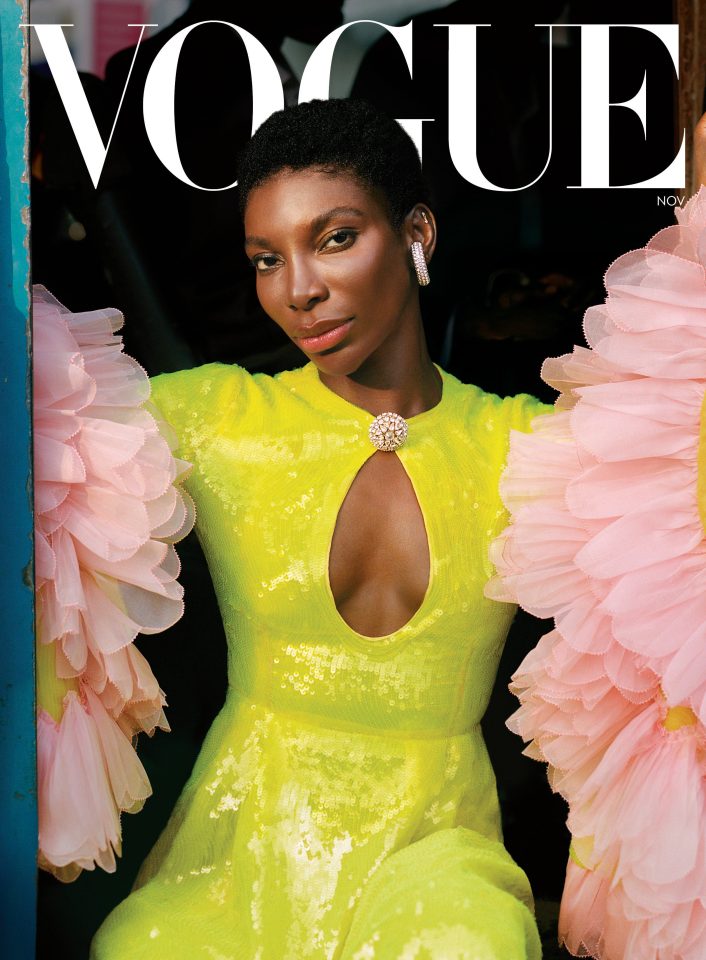 When Vogue asked Coel where she wanted to be photographed, she decided to shoot for the moon. Her answer was Ghana — and Ghana it is. Every tight media budget has a slush fund for very special events. This is one for many of us — both Coel and the shoot happening in Accra.
The star wears a Gucci Made To Measure Dress by Alessandro Michele on the cover, with Gucci jewelry, styled by Ib Kamara [IG] and lensed by Senegalese-Italian model/photographer Malick Bodian [IG].
To Ghana We Go in a First for Vogue US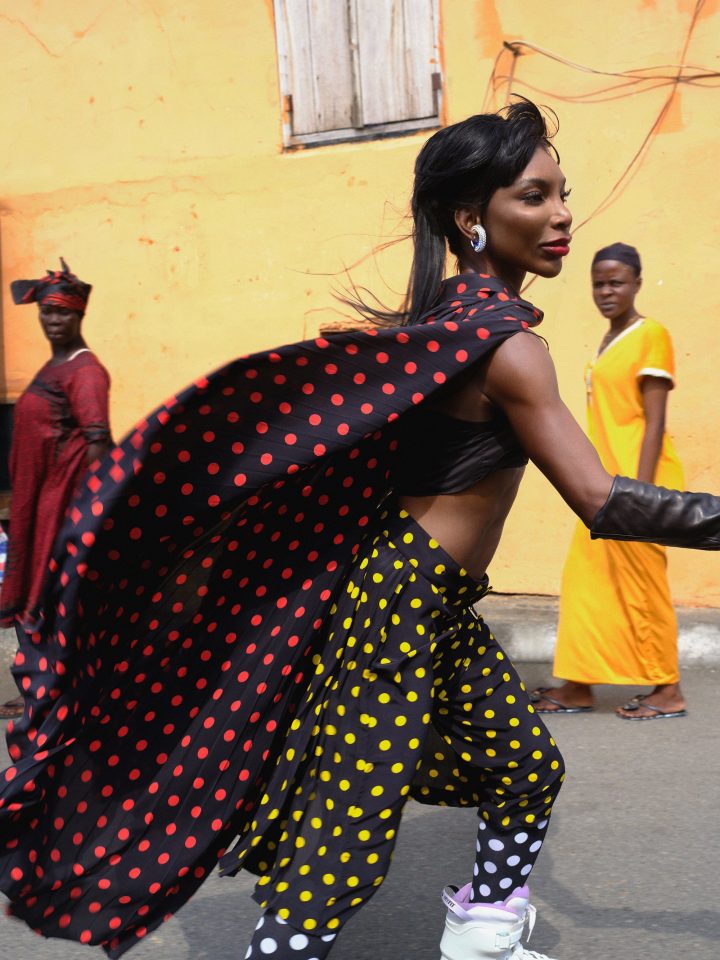 GOTTA MOVE
She's an in-line skater, runner, and, most recently, mixed martial arts fighter, inspired by UFC champion Kamaru Usman. "It's like physical chess," Coel says of the sport. Burberry coat and skirt. Gucci earring. Photo Credit: Malick Bodian/Vogue
Nnadi also came to Ghana for the interview, delivering a visually unforgettable description of Michaela Coel, who runs a half marathon in the middle of the night for fun, and suggested rollerblading on Sunday morning in Accra.
The day before, in Accra's historic Jamestown, I'd witnessed Coel flying through traffic on her skates, her polka-dot Burberry cape flapping wildly behind her, photographer Malick Bodian and his crew in hot pursuit. It was a daredevil stunt suited more to an action movie than a Vogue cover shoot.
In the next image Michaela Coel is photographed in Accra, Ghana's capital, with her father, Derek Kwesi Coel, and grandmother Jemima Andam (in an Erdem dress). The actor and activist wears a Dolce & Gabbana blazer and top. Louis Vuitton dress. Dior shoes.
Michaela Coel in Control of Her Creativity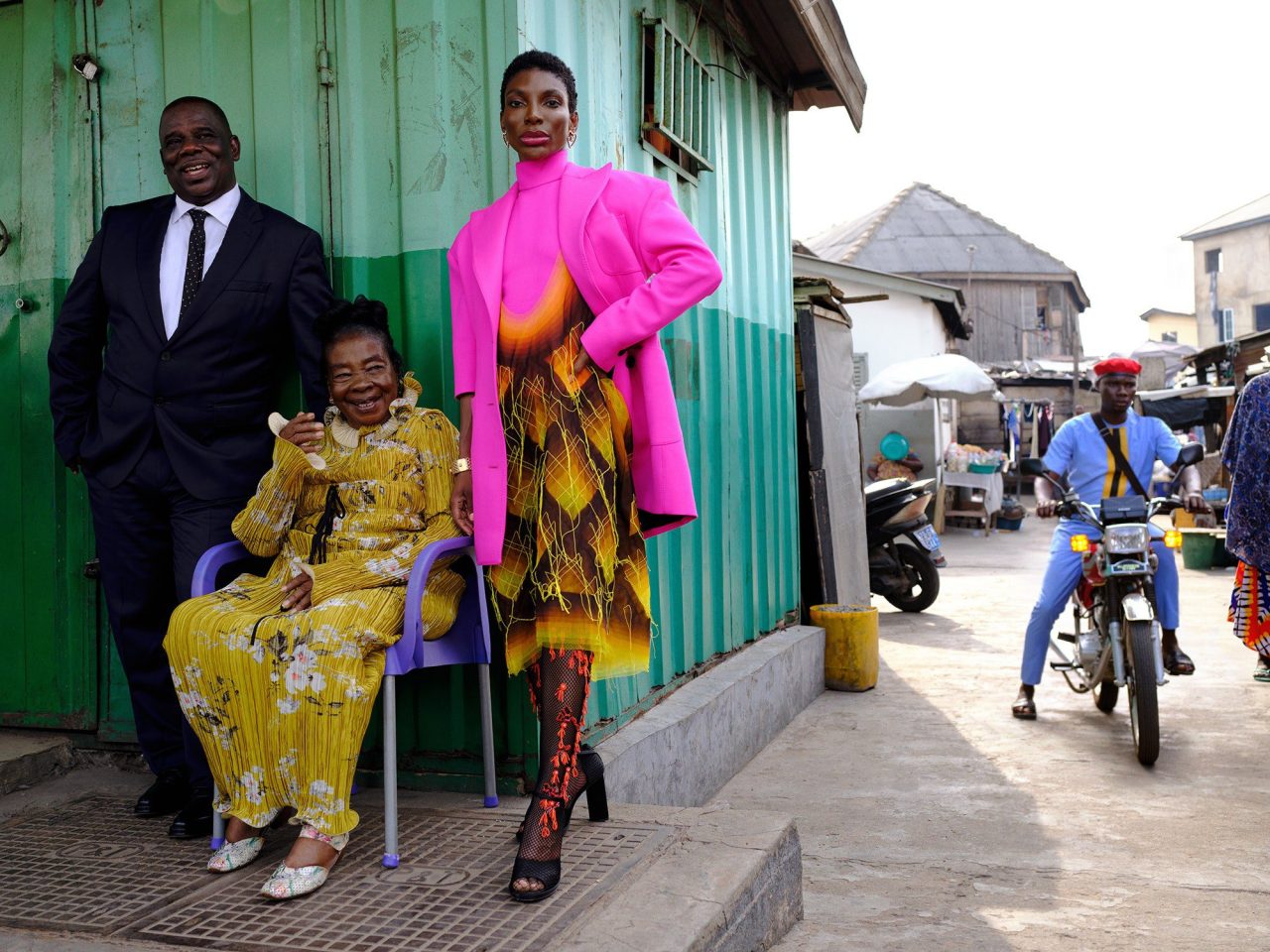 HOME AGAIN
Coel in Accra, Ghana's capital, with her father, Derek Kwesi Coel, and grandmother Jemima Andam (in an Erdem dress). Coel wears a Dolce & Gabbana blazer and top. Louis Vuitton dress. Dior shoes.
Photo Credit: Malick Bodian/Vogue
AOC has long followed Michaela Coel, including her decision to famously walk away from a $1 million deal with Netflix in 2017. The straightup-backbone star went on to make 'I May Destroy You', the earth-shattering BAFTA- and Emmy Award–winning drama based on her own experience of sexual assault.
All of her videos and interviews — including her famous, viscerally-honest 2018 MacTaggart lecture at the Edinburgh TV festival — are featured in the related content widget after this story.
It was the BBC who agreed to give her full creative control and rights for the 'I May Destroy You' show, with HBO signing on as a co­producer. "'No' is the only power you really have in this industry, that's the only way to carve a path," says Coel's friend Donald Glover. "Michaela can really do anything she wants, have any role she wants. She means a lot because of the choices she's made, and I don't think she takes those choices lightly."
FASCINATING RHYTHM
"Michaela can really do anything she wants, have any role she wants," says Donald Glover, "because of the choices she's made." Michael Kors Collection gown. Loewe shoe. Chanel earring.
Photo Credit: Malick Bodian/Vogue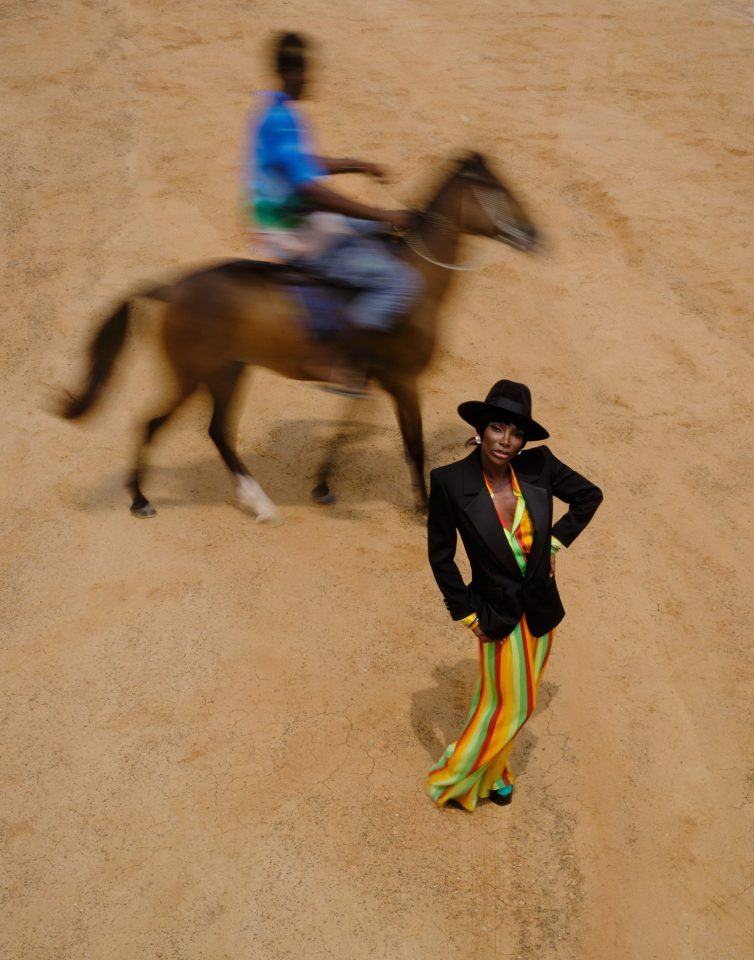 JOY RIDE
"Everyone talks about her genius talent," says her friend Paapa Essiedu, "but the thing that impresses, inspires, and moves me most about Michaela is the size of her heart." Saint Laurent by Anthony Vaccarello jacket. Christopher John Rogers shirt and pants.
Photo Credit: Malick Bodian/Vogue
Vogue's day with Michaela Coel ends up at a restaurant appropriately named Wakanda, a decision of the owner's 10-year-old son.
We learn that Coel auditioned for the first 'Black Panther' movie while she was still a student at the Guildhall drama school in London.
In Wakanda Forever, Coel Is the Queer Rebel
She remembers attending the London premiere of 'Black Panther' in a halter-neck dress she'd made out of wax print fabric her mother had brought back from Accra. "I thought to myself, I'm definitely going in something African," she says. Unbeknownst to Coel, director Ryan Coogler already had his eye on her, and he noticed how easily she mingled with cast members. "Aneka, the character Michaela plays, is kind of a rebel," says Coogler. "It made a lot of meta sense with Michaela being someone who is pushing the industry forward and carving out her own space."
Aneka is also a gay rebel, a reality about her character that sealed the Black Panther deal for Coel.
Coel Addresses Gay Hate in Africa | AOC Blames the US Evangelical MAGA Crowd for Years
AOC looks beyond Vogue to confirm that it's US right-wing MAGA evangelicals who are stirring up anti-LGBTQ-hatred in Ghana, as they have done for well over a decade in Uganda. Open Democracy estimates that more than 20 US Christian groups known for fighting against LGBT rights and access to safe abortion, contraceptives and comprehensive sexuality education have spent at least $54m in Africa since 2007.
My own interest in exposing the degree to which American evangelicals have promoted anti-gay hatred in Africa was prompted by a Rachel Maddow investigation in 2009. American evangelicals behavior on this front is just reprehensible, imo. For years, these right-wingers have advocated to imprison family members of gays in Africa who do not report them [a queer son or daughter, brother or sister, or cousin] to the authorities.
Can you imagine advocating to imprison a mother in Africa for not turning her son over to the authorities.
Just remember, led by America's right-wing Supreme Court and as articulated by Clarence Thomas, the MAGA crowd also wants these laws in America, as part of their authoritarian and anti-democratic takeover of our country. You have queer friends? You will go to prison if you do not report them. THIS is what Republicans want for America.
What a great pleasure to find this wonderful feature on Michael Coel on Vogue US November 2022 issue. Enjoy Vogue's beautiful and intimate video of MIchaela celebrating her Vogue achievement.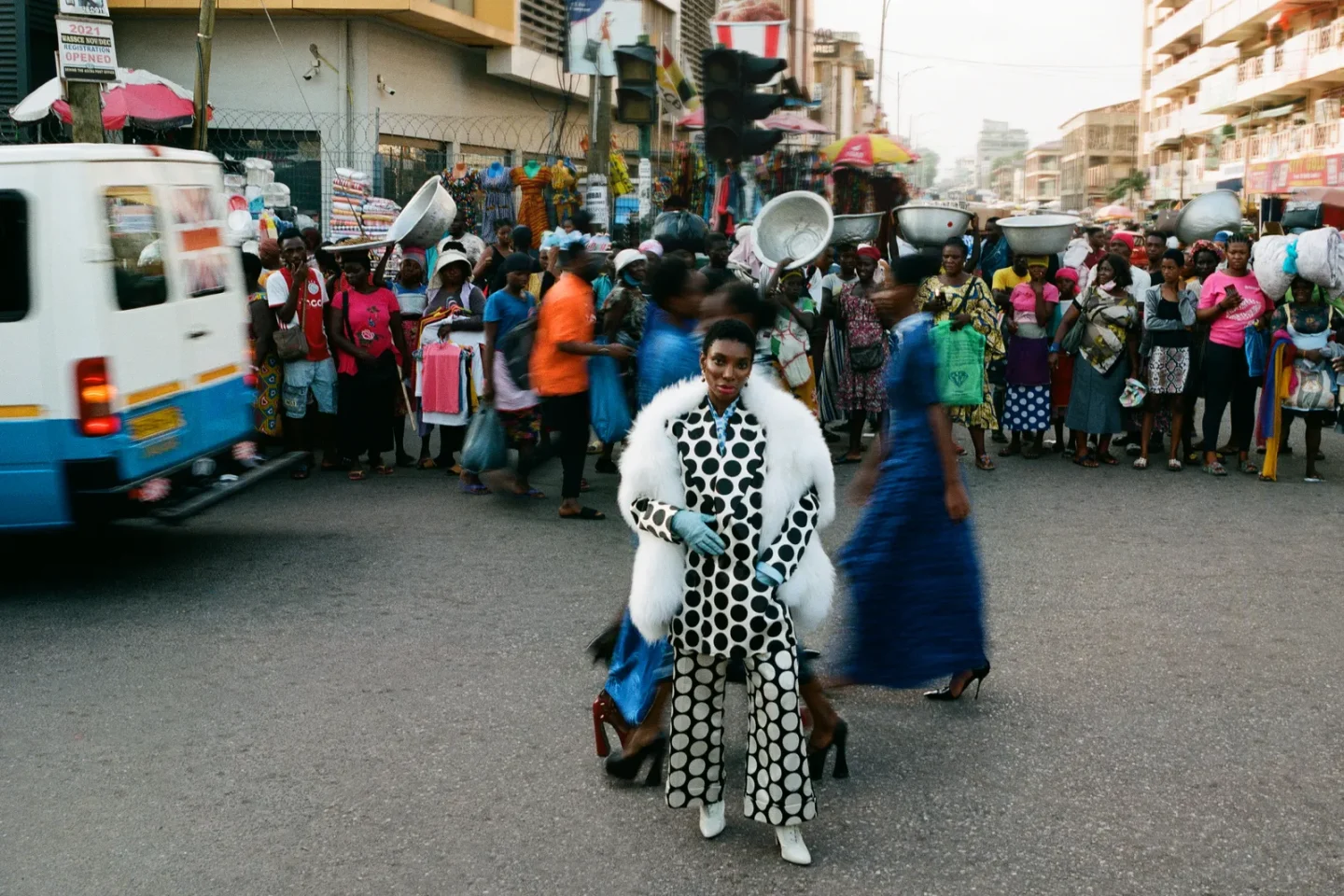 IN MEDIS RES
Coel stops traffic in Accra's bustling Makola Market wearing a Michael Kors Collection wrap and Gucci jacket, shirt, pants, gloves, and shoes.
Photo Credit: Malick Bodian/Vogue
SUDDEN IMPACT
Seeing the world react to her work is like flying a kite. "There's this huge thing in the air and maybe at one point I was holding the string, but now I'm just gazing up with everybody else." Gucci dress. Alberta Ferretti jacket and pants. Chanel shoes.
Photo Credit: Malick Bodian/Vogue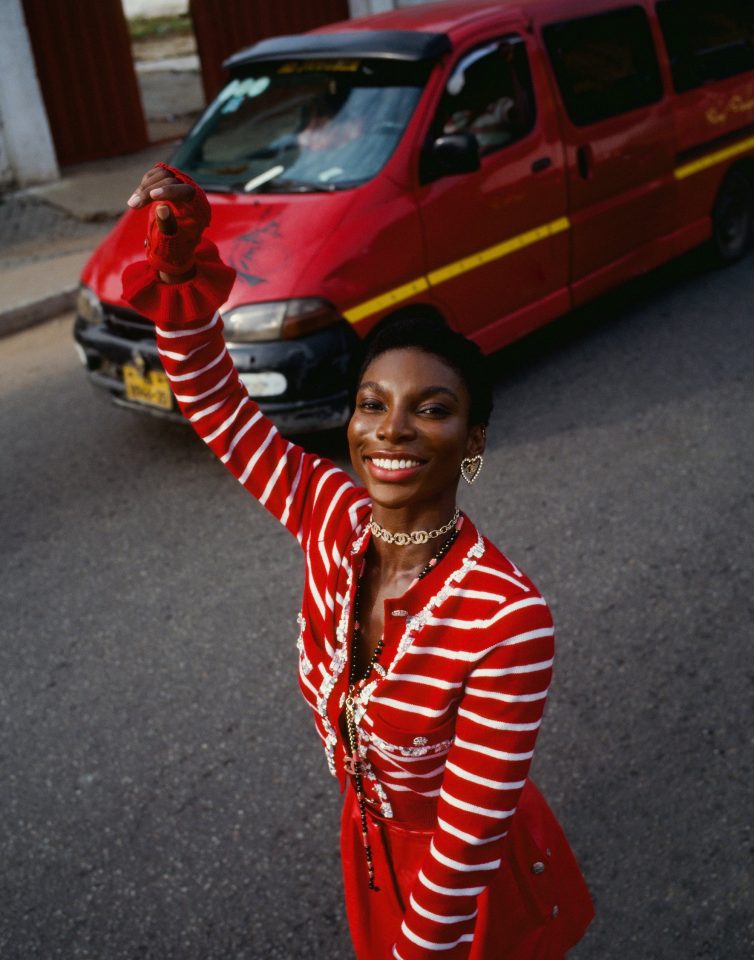 SO LONG. FAREWELL
Chanel cardigan, shorts, glove, earring, and necklaces.
Photo Credit: Malick Bodian
Article Credit: Anneofcarversville.com/Vogue