Spice up your wardrobe with latest Ankara styles
Ankara style is one trend that will never go away. Ankara is a colourful African print that people from all over the world have come to embrace. Just a little addition of an Ankara piece to a cloth makes that product to be known as "African".
Ladies tend to be conscious of what they wear. As such, they will do whatever it takes to slay. Yes, ladies will cut out a picture from a magazine or take a screenshot on Instagram and forward it to the tailor. So, what would you do to be in the know of the latest Ankara designs and own one? As you think about that, below is a detailed compilation of the Ankara styles 2018. Hopefully, you will get some inspiration for your next collection.
Trendy Ankara styles for ladies 2018.
1. High short dress
Ladies, the high short dress is one of the most versatile dresses. You can wear it to brunch, office cocktails, weddings, date nights, or casual outings with your girlfriends. The dress features a high waist top half and a spin-out at the bottom. As such it can flatter all shapes and sizes.
2. The shirt-dress
Want a street-chic vibe? Then the shirt-dress is just for you. The style resembles a long shirt and is a casual wear. There are various styles and patterns for the shirt-dress. The most popular one is the button-down look. You can accessorize with a belt and a nice pair of sneakers.
3. Ankara jumpsuits
Overalls inspired the jumpsuit designs. For some time now, the jumpsuit has been a favourite for most ladies who want a chic, classy and comfortable look. Like all clothes, the jumpsuit flatters your body best when it is a perfect fit. Therefore, avoid too loose designs as they overshadow your body. On the other hand, tight jumpsuits may be uncomfortable. Also, make sure that the jumpsuit highlights your waistline as it makes you look curvy. You can accessorize with a thin belt.
4. Skinny pants
Perhaps the most known pant type today, skinny pants have become a trusted companion for the ladies. You can wear them to any event and still look chic. Plus, you can pair them with any top. That said, it is time ladies embrace the Ankara skinny pants just as you have done with the jeans.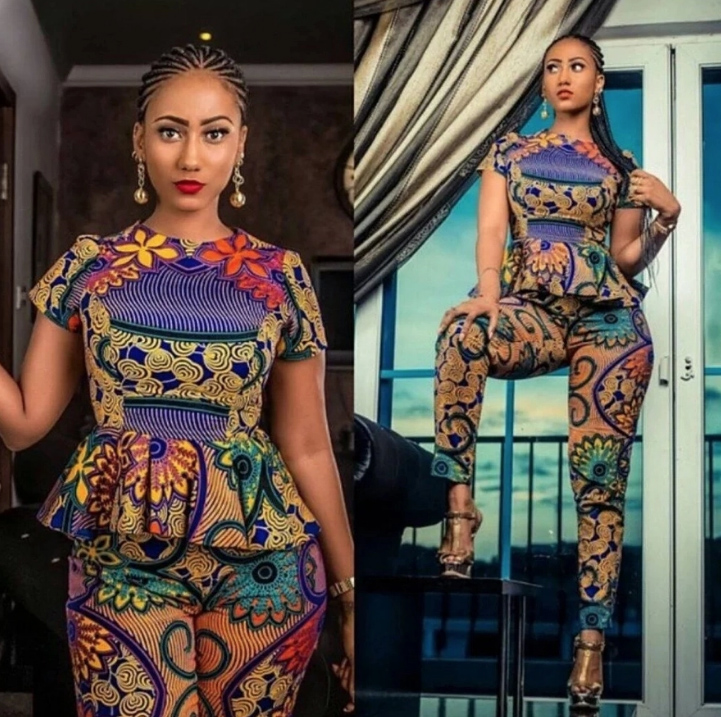 5. Romper
Another style teenagers love is the romper which is a combination of a dress and a skirt. The primary advantages of rompers are comfort and simplicity. When purchasing an Ankara romper, always pay attention to the size. You do not want something that is too short to the extent that it exposes your inner garments. Also, avoid tight rompers as they cling to the body and show the patterns of your undergarments. When you have a baggy romper, you can always wear a tiny belt. The patterns/prints you choose will depend on your preferences. If you love floral prints, the Ankara has multiple options. Alternatively, you can go for the minimal prints in solid colours. With the romper, you do not need to accessorize as the piece is already a statement. The look makes you look tall and slim. As such, you can exchange those high heels with a nice pair of sneakers, ankle boots or sandals.
6. Ankara ball gown
The dress is almost similar to the princess gown but has a more dramatic bottom. Even though any body shape can rock this dress, it is ideal for pear-shaped ladies as it highlights the waist and hides any flaws in the lower body. Plus, women with large busts can achieve the hourglass figure with the dress as it defines the waistline.
7. Off shoulder princess line gown
The princess dress creates an illusion of long lines. As such flatters curvy women with relatively large busts and at the same time make them look slim. Also, the vertical lines highlight the waist area and elongate the torso. The length of such dresses varies depending on the occasion you are attending. For a wedding, choose the long gown.