Kosua ne Meko: Ghana's Tempting Street Delicacy
Kosua ne Meko (Egg and Pepper) is a popular Ghanaian street food, take one bite and you'll find yourself wanting more.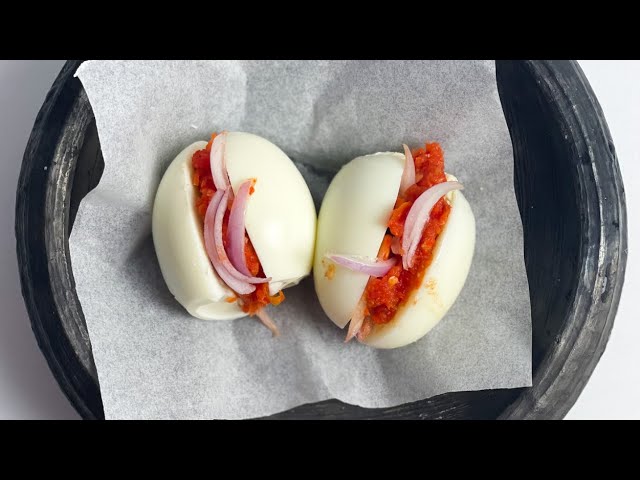 Kosua ne Meko as the name suggests is made up of boiled egg and pepper sauce. The boiled egg is cut in half and stuffed with the pepper sauce topped with slices of onions. The pepper sauce is made with scotch bonnet peppers, onions, tomatoes, ginger and salt.
Kosua ne Meko is a popular delicacy and because it's both delicious and affordable, one might end up buying more than the intended. The eggs are a good source of protein, and the pepper sauce adds a flavourful kick. Kosua ne Meko is also a good source of vitamins and minerals, including vitamin C, potassium, and iron.
If you are looking for a delicious and affordable Ghanaian street food snack, be sure to try Kosua ne Meko. You won't be disappointed!
Preparation
1. Boil the egg with salt.
2. Combine the scotch bonnet, ginger, garlic and a pinch of salt, and grind/blend into a rough paste.
3. Add the tomato and grind until you have any consistency you prefer.
4. Garnish with sliced onions.
5. Slice along the length of the egg, just enough to open it up but without cutting all the way through.
6. Carefully stuff the egg with about 1 tablespoon of the pepper sauce and voila!