Marie Madeleine Diouf Finds Inspiration in Indigo for Fashion in Senegal
In the colorful small shop of Marie Madeleine Diouf located in the Plateau alley of downtown Dakar, clothes in various colors are displayed. However, the flagship color of her NuNu Design by DK brand is blue, which holds a special place in the heart of the designer.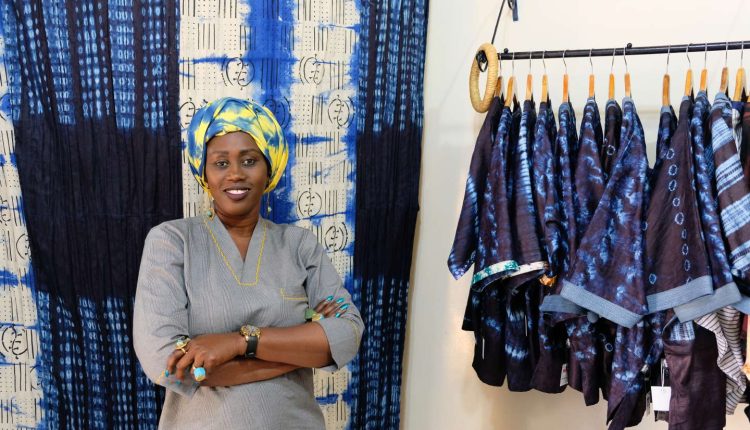 Growing up, Marie was fascinated by the indigo loincloth of the Serer dancers, an ethnic group in Senegal known for their strict dress code that required women to wear a loincloth and an indigo blue boubou with black stripes, and a scarf tied on the head. The Senegalese people have remained attached to indigo, as it represents a color deeply linked to several traditional cultures and is part of the history of the continent.
Marie Madeleine Diouf naturally incorporates this shade into her designs, such as on bazin, a damask and shiny fabric, and PI, a woven cotton loincloth from Guinea. The intensity of the vegetable dye obtained from the bark of the indigo tree allows her to nuance the tones to infinity, from deep blue to a very pale bluishness, depending on the patterns made on the fabric.
The NuNu Design by DK brand employs ten people and releases three collections a year. Marie Madeleine Diouf wants to magnify African textiles and tell the story of peoples through her pieces. Her style is authentic and committed, aiming to associate ancestral know-how with current cuts. The flagship model of NuNu Design combines cut-out pockets on jeans salvaged from a Dakar thrift store with an indigo dress or tunic, reflecting the stylist's ecological commitment in search of a second life for second-hand clothes.
Marie Madeleine Diouf has also been organizing workshops since 2019 to contribute to the empowerment of women in crafts. She named each of the seven fragrances she imagined with the first name of her ancestors, revisiting the thiouraye, an incense, widely used by Senegalese people as an element of seduction, and transforming it into a variation of liquid perfumes of atmosphere.
Marie Madeleine Diouf is also working on research on other natural dyes, experimenting with new processes based on natural components such as pigments from cactus, eucalyptus, and various barks. She aims to set up a production line entirely local and produce cotton on Senegalese territory to commit to quality and ecology.