Designers & Fashionistas Gear up for the 2023 GTCO Fashion Weekend
Fashion enthusiasts are in for two days of extraordinary fashion experiences as designers prepare to dazzle the runway at the upcoming sixth edition of the Guaranty Trust (GTCO) Fashion Weekend.
This highly anticipated event is scheduled to take place on November 11th and 12th, 2023, at the GTCentre, situated at Plot 1, Water Corporation Drive, Oniru, Lagos. Get ready for a fashion spectacle like no other!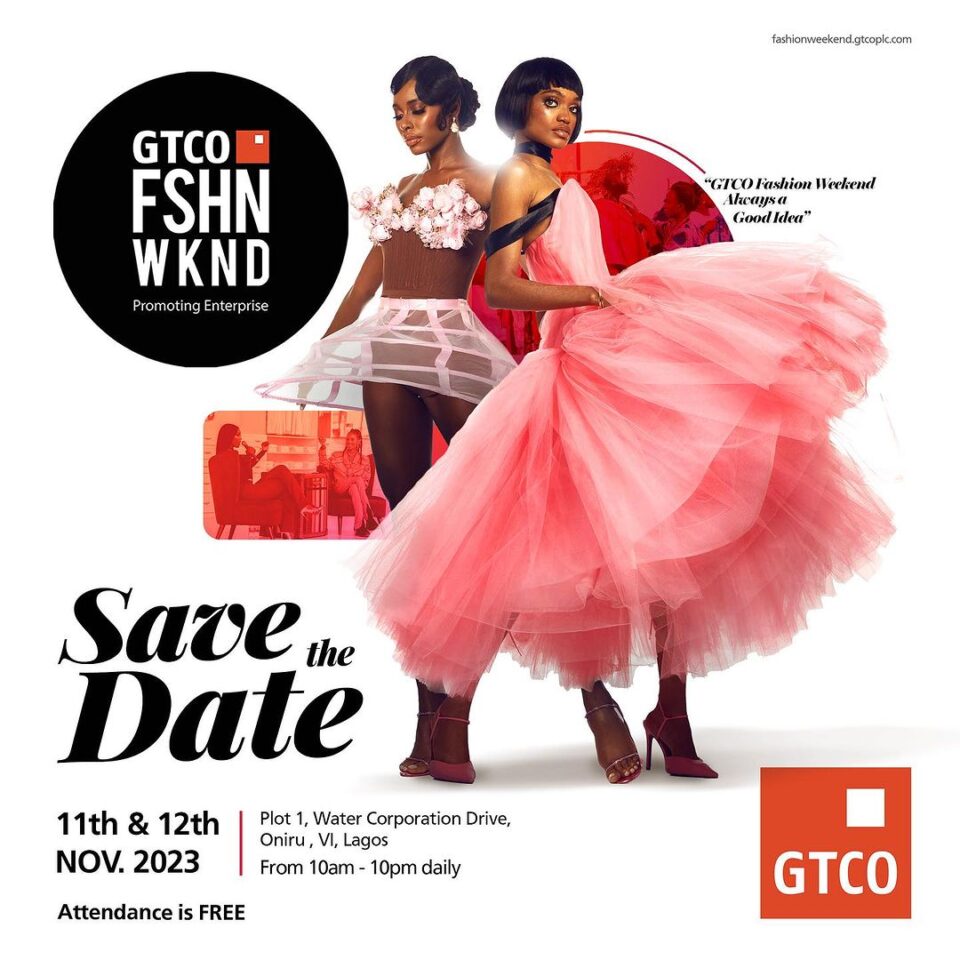 The GTCO Fashion Weekend is an annual event dedicated to bringing Africa's finest fashion to a global stage, with a focus on engaging consumers. Throughout its history, the event has solidified its role as a platform for showcasing a wide range of talents, creativity, and entrepreneurial endeavors in the world of fashion retail. It unites established African fashion brands with emerging labels, creating opportunities for them to connect with globally renowned fashion icons and influential style figures.
Addressing the Media at the GTCO head office in Lagos recently, Mrs. Oyinade Adegite, Chief Communication Officer GTCO Plc said that:
In keeping with tradition, this year's event will feature insightful masterclasses and thrilling runway shows together with free stalls for over 140 fashion retailers. Colourful façades, lively music, and a delightful ambience are popular elements of GTCO fairs and work together to create a multisensory, thoroughly fulfilling experience for all attendees.

Mrs. Oyinade Adegite, Chief Communication Officer GTCO Plc.
The GTCO Fashion Weekend serves as a key platform for Guaranty Trust Bank to advance the cause of 'Promoting Enterprise.' Its primary focus is to provide support to its expanding retail and SME customer base while also bolstering the indigenous Creative Industry.
Guaranty Trust Bank is the flagship subsidiary of Guaranty Trust Holding Company Plc, a leading financial services company providing banking and non-banking services across eleven countries spanning West Africa, East Africa, and the United Kingdom. The Group operates a diversified, 'Proudly African' franchise and is renowned for its innovative approach to customer service and stakeholder engagement, especially through its non-profit, consumer-focused fairs and capacity building initiatives for small businesses, which has endeared the GTCO brand to millions of people across Africa and beyond.